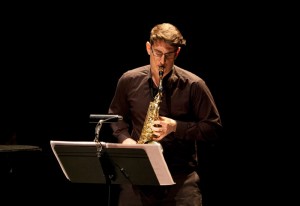 In July 2012, Joseph Lallo (Australia) & Sara Zazo (Spain) will be hosting the 1st Melbourne Saxophone Workshop for VCE and University Saxophonists.
The workshop will be two intense days of music activities and performances centred around the saxophone, and each student will have the chance to study with these exciting young international performers.
Not only will each participant receive the tools to enhance their individual performance, but they will perform as part of a young & active saxophone community.
9 & 10 July
J-Studios Art Space 100 Barkly St North Fitzroy VIC 3068
Individual & Group Lessons Conferences & Presentations Concerts
Only 12 Positions Available!